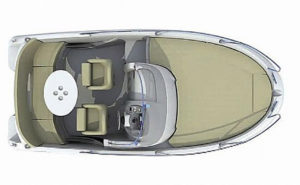 Driving pleasure, swimming, sunbathing and relaxing, picnicking on the sea and, and, and . . .
The BeneteauFlyer 550 Sun Deck is motorized with, according to the manufacturer's instructions, maximum (115 hp Yamaha 4-stroke) outboard motor. This is a Powerful, reliable and very economical engine.
The equipment shines at the highest level. These include: navigation system, sound system, large bimini top, freshwater transom shower, a spacious cabin shelter, picnic table and large sunbathing area.
On board can accommodate up to 5 people comfortably, below deck are sleeping accommodations for two persons present. A space wonder, for just under 6 meters in length, so much space, and to create under the deck is a masterpiece. Similarly, it very accurately been taken to ensure that the motor boat on the best driving characteristics, even in rough water features.
. . . a very successful family, bathing and recreational boat.